M

oscow I

NTERNATIONAL

C

IRCUS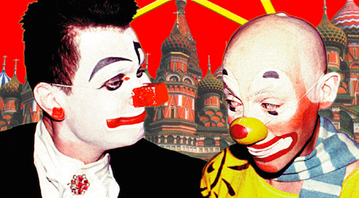 ​​​​



Circus History
The origin of the circus dates back to Ancient Rome. The circus was a structure for the exhibition of horse and chariot races, equestrian shows, staged battles, gladiatorial combat and displays of, and fights with, trained animals.
The term 'circus' also describes the performance which has followed various formats through it's 150 year modern history. Philip Astley is credited with being the 'father' of the modern circus when he opened the first circus in 1768 in England. Early circuses were almost exclusively demonstrations of equestrian skills with a few other types of acts to link the horsemanship performances.
The Old Moscow Circus is one of the oldest circuses in Russia. In Moscow in 1880, the circus was opened with five rows of seats, box seats, a dress circle, wooden unnumbered benches and a standing gallery. It featured the best horse acts as well as other phenomenal acts from all over the world.
In 1919 the Circus was nationalized in accordance with a decree from Lenin becoming the first Moscow State Circus. During World War II, the circus ran uninterrupted. New performances were produced including special stunts which enacted military hostilities.
The Moscow Circus did its first western tour in 1956, debuting in February at the Cirque Royal in Brussels, Belgium. To the Western audiences, the Moscow Circus was a revelation, the secretive Soviet Union disclosed to the world how the circus has evolved both technically and artistically in their country.
The Moscow Circus tours led to a much needed change in the public perception of the circus in the West, and its subsequent renaissance in the 1970s.
Contemporary circus has been credited with reviving the circus tradition since the 1980s when a number of groups introduced circus based almost solely on human skills and which drew from other performing art skills and styles. Compared with the traditional circuses of the past, the contemporary approach tends to focus more attention on the overall aesthetic impact, on character, story development, the use of lighting design, original music, and costume design to convey thematic or narrative content.
The Moscow International Circus offers compelling and diverse productions reaching diverse markets. With more than 60 years of entertainment industry experience, each show aims to provide laughter, creativity, visual amazement, and a "WOW" factor. We capture the best of the modern-day circus, and special novelty acts, blending acrobatic skill, human athleticism, musical theatrics, and humor while creating a fun filled environment for children of ALL ages.














'

The Circus

With a Purpose'